Small businesses that were able to survive the last year amid the COVID-19 pandemic are facing a new hurdle: a lack of workers.
According to a survey done by the National Federation of Independent Business, small business job openings hit a 48-year record-high level in March of this year. While there are many other surveys and speculations to suggest why this is happening, one thing still rings true— companies need innovative ways to attract quality candidates.
Studies show that a competitive benefits package can significantly help in employee acquisition and retention. "In a Glassdoor survey, around 60% of respondents reported that they strongly consider perks and benefits offered before accepting a job offer. In addition, 80% of employees prefer additional benefits over a pay increase." -Glassdoor Team
Chastain Otis is here to provide businesses some of the best benefits they can offer to increase job applicants.
1. Flexible Work Hours
People as a whole are starting to respect the work-life balance, especially after the last year we have all had, and flexible work hours can provide that balance. A majority of people reported in a study by Fractl that flexible hours, more vacation time, and unlimited vacation could help give a lower-paying job an edge over high-paying jobs with fewer benefits. This benefit is increasingly important to both parents and millennials.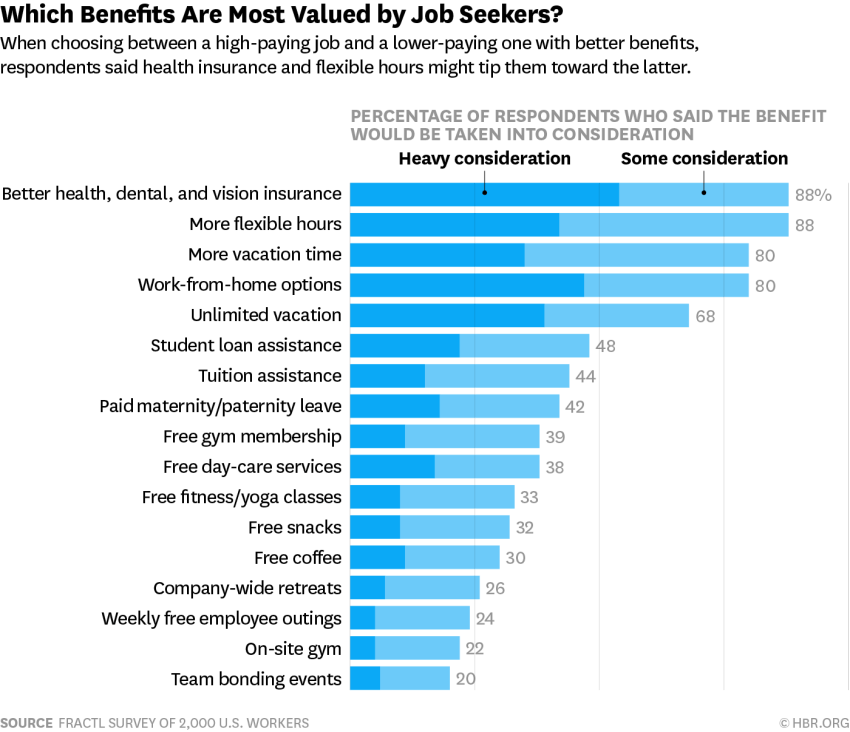 2. Wellness Programs
Many companies today include wellness programs as part of their benefits package due to more and more employees paying attention to their overall wellbeing. While larger companies may provide an onsite fitness center or discounted gym memberships, we understand that it may be beyond your budget to build an onsite gym. However, you can still offer wellness programs to your employees by providing things like:
Yoga and meditation classes
Healthy snacks
Discounted or free gym memberships
Athletic gear reimbursement
Subscriptions to apps like Calm or My Fitness Pal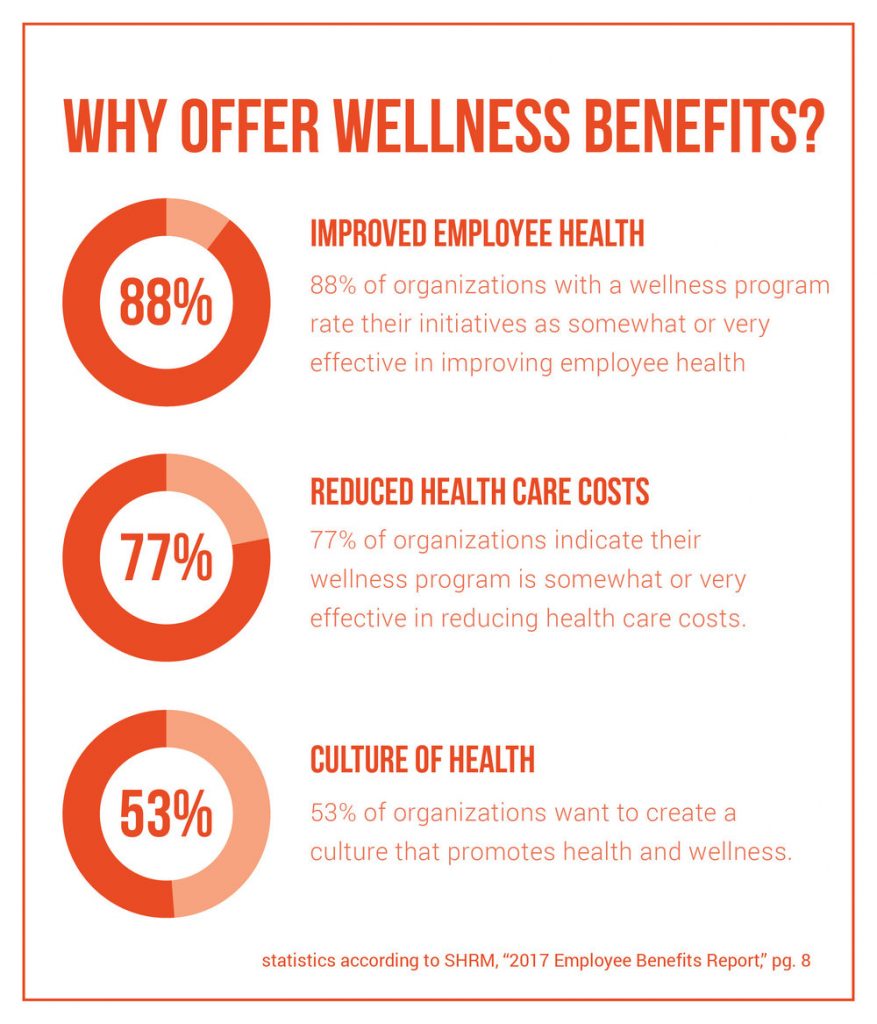 3. Health Insurance
Offering valuable health insurance plans, such as medical, dental, and vision insurance, can not only attract more and better candidates but also boosts job satisfaction and leads to higher retention rates. Health insurance is a basic benefit that employees expect, and if you don't offer it, you'll have a hard time finding good talent.
To really stand out against your competitors, you'll need to provide affordable health insurance. Unfortunately, health insurance can be the most expensive benefit for an employer to offer. Luckily there are other ways to make the premiums more affordable. Businesses can provide a portion of the monthly premium rather than shouldering the full cost to make their expenses more manageable.
4. Group Life Insurance
Life insurance is a valuable perk for employees who are constantly on the go or have children at home. A LIMRA survey in early 2017 revealed that nearly 60% of those surveyed agreed that life insurance was essential to their work and not just important since it provides security knowing your family will be taken care of financially if anything were to happen.
Offering group life insurance as a benefit may be the one thing that gives you an edge over the competition. It can help employees feel more secure, even if they weren't looking for it themselves.
5. Retirement Benefits
Offering retirement benefits for employees is a valuable asset to your company. The ultimate goal of all companies should be to provide the best possible employee experience and retirements are an important part of this. The cost of a 401(k) match is offset by the higher productivity and lower turnover that comes with it. In fact, according to a study conducted by Aon Hewitt, companies with an employer-sponsored retirement plan had less than half the voluntary turnover rate of those without one. This means that if you offer employees a 401(k) match–even just 50 cents for every dollar they put in up to 6%–your hiring pool will be much larger because many people will turn down jobs where there are no retirement benefits.
Acquire Top Talent with Employee Benefits
In an environment in which companies are struggling to acquire top talent, many look at their benefits package as a way to help attract more candidates. Research shows that competitive perks can be enough for applicants to turn down higher-paying jobs and apply with your company instead. Boost the number of people applying by offering these five compelling benefits: flexible work hours, health care insurance coverage, retirement planning services (or other incentives), life insurance plans available on site, and wellness programs like free exercise classes or massages offered throughout the week.
Contact Chastain Otis Today
There's much more to protecting your business than just safeguarding your assets. We know that your employees are the lifeblood of your business, and we want to help you keep them safe from financial worries that come with illnesses and future retirement needs.
While Chastain Otis doesn't offer all of these options, such as setting up a 401K or other investments, we can help your business in a variety of other ways, such as health insurance and group life insurance!
Please click here to fill out our secure quote form, and one of our independent agents will contact you within one business day to discuss the Employee Benefits options that are best for your company.