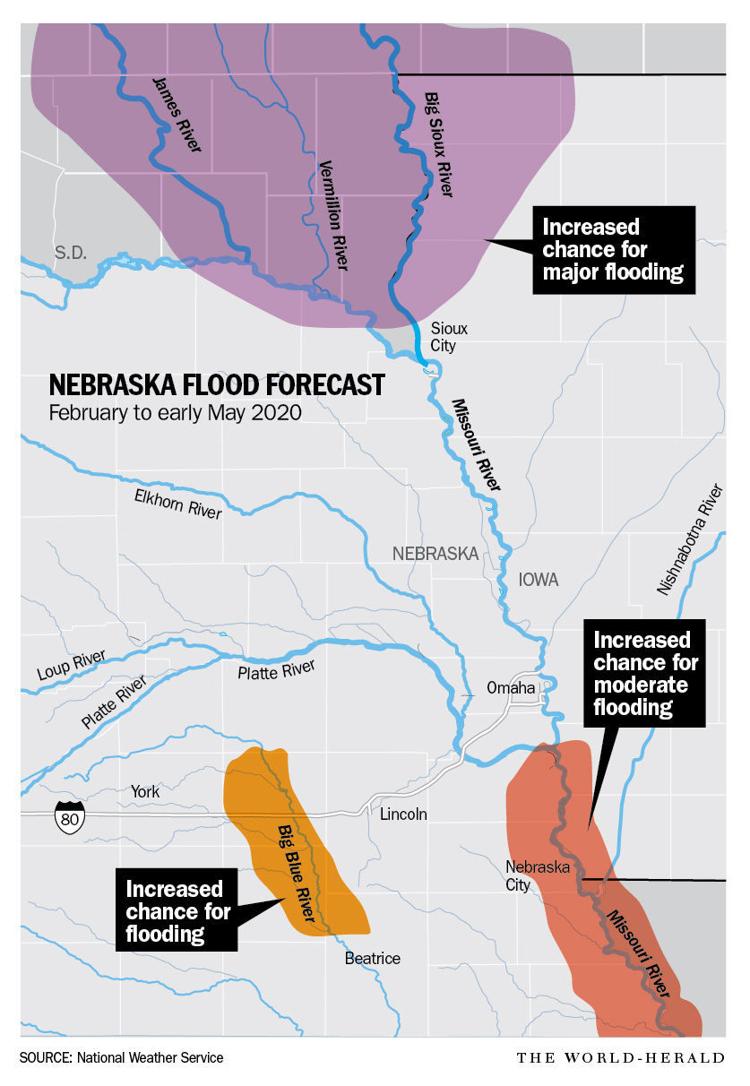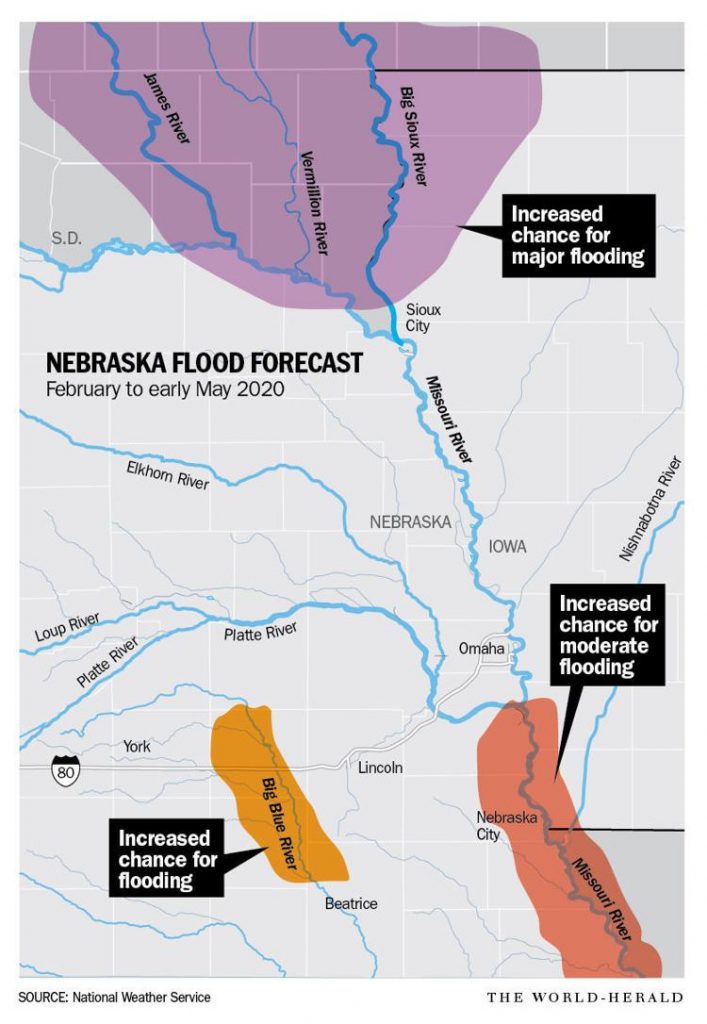 Although it's still winter, many who experienced historic flooding last spring are worried about what's to come this year.
Last year, flooding in the Missouri, Mississippi and Arkansas river basins were responsible for an estimated $20 billion in damage. Some of the locations along the Missouri river in Nebraska and Iowa remained flooded well into December 2019, setting new flood longevity records.
While some are saying the conditions this year aren't nearly as bad as last, others are noticing red flags.
"There is a flood risk this year and it's higher than normal," National Weather Service Hydrologist David Pearson said.

Kent Luetzen, 3 News Now
The rivers surrounding Iowa and Nebraska are still pretty high, with some like the Elkhorn River experiencing ice jams. Soil moisture levels are also pretty high, according to Pearson.
The flood threat in Nebraska is largely confined to the eastern third of the state, where much of last year's flooding occurred. Significant flooding this year is dependent on how much snow, melt, and rain we receive in the coming months.
Pearson says there's greater than 50% chance that the Missouri river will reach a moderate flood stage.
As forecasters keep an eye on the weather and flooding potential, it becomes incredibly vital to be protected in case of a flood.
If you live in a high-risk flood area, you may already be required to have flood insurance. Unfortunately, more than 20 percent of flood claims come from properties outside the high-risk flood zone. Many who suffered flooding in Nebraska were not in a flood risk zone.
To protect your belongings and your home, Chastain Otis suggests you invest in flood insurance. We stress that if you aren't already covered, you get flood insurance soon because there is a 30 day wait period.
Chastain Otis can help you get the flood insurance you need, for both residential or commercial properties. The rates for flood insurance in the National Flood Insurance Program (NFIP) are standardized and regulated, based on factors such as:
Year of building construction
Number of floors
Location
Building occupancy
Flood risk
Location of the lowest floor in relation to the Base Flood Elevation on the flood map
Deductible and amount of coverage
That means, essentially all policies are the same in the NFIP, the only difference is the coverage amount and/or deductible. There are private flood markets available in some areas. Your independent agent can tell you if they are an option and how these policies differ from NFIP plans.
Again, if you live outside a flood zone, your flood insurance can be inexpensive, so why not at least consider it?
Floods are costly, and not only to a home or business but to the personal property inside. Don't risk the damage. Click here to get your FREE flood insurance quote or Contact Chastain Otis today and we will get you the coverage you need at a price you can afford.